Postpartum Must-Have
Complete Beauty Routine!
Regular price

117,50 €

Sale price

108,10 €
Paiement 3x sans frais à partir de 50€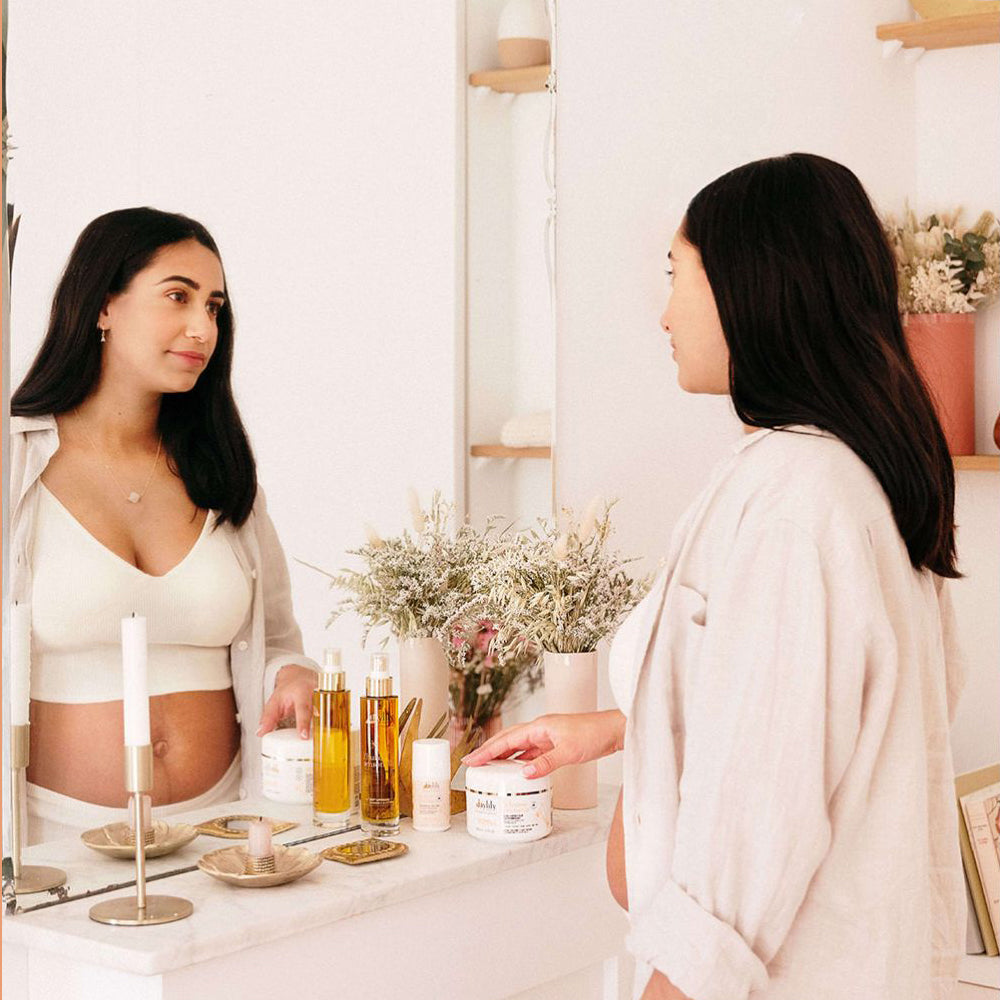 Description
Rituel d'application
Composition
What does this box contain?
- L'Huile Sensorielle (3.3 fl. oz.) intensely nourishes the skin, prevents the appearance of stretch marks and reduces existing ones, thanks to its 5 natural organic oils and dermochlorella. Enjoy a moment of happiness with its dry texture and its delicious fragrance, with notes of biscuit and vanilla.
- Le Baume Onctueux (6.7 fl. oz.) effectively corrects stretch marks that are still pink or purplish and nourishes the skin. It also acts on cellulite, reducing it and firms the skin thanks to its formula enriched with Body3Complex. Its scent is sweet, floral and feminine. More than a care, it invites you to take a little time every day and take a kind look at your body day after day.
- La Crème Radieuse (1.6 fl. oz.), Very High Protection SPF 50+ Sun Day Cream, hydrates your skin while protecting it from the pregnancy mask, if breastfeeding. Its anti-oxidant and anti-pollution action makes it a global care for a simple, quick and effective routine. Enjoy beautiful, even skin all year round.
- Les Bulles Lavantes (16.9 fl. oz.), this shower jelly cleanses while protecting you from tightness and dryness of the skin. Its soft texture instantly transforms into a fine, silky foam tenderly enveloping your skin and that of the whole family. Thanks to it, you create the olfactory universe of your home because everyone can use it, including babies.
- Le Déo Caresse (1.6 fl. oz.), this natural deodorant makes no compromise on effectiveness. It regulates perspiration while absorbing bad smells. Its sweet and powdery scent will delight the most sensitive sense of smell. Stay fresh in all circumstances.
Who is this box for?
To all the young mothers who have just welcomed their wonder! Nothing better than this box to thank your body which carried life...

Maternité:
Post-partum (bébé inférieur à 3 mois)
Carnation de peau:
Foncée
Le coffret parfait !
J'ai commandé ce lot de soins juste avant d'accoucher et je les adore tous. Petit coup de coeur pour Les Bulles Lavantes sont parfaites même pour ma fille !
Merci pour votre avis Mathilde ! Nous sommes ravies que ce coffret vous ait convaincue :)